Les hôpitaux Shriners pour enfants annoncent les patients-ambassadeurs nationaux 2017-2018 à Daytona Beach Des patients de Santa Rosa Beach, en Floride, et d'Erie, en Pennsylvanie, ont été nommés ambassadeurs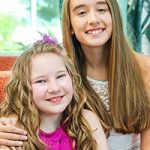 Chaque année, les Hôpitaux Shriners pour enfants sélectionnent deux patients-ambassadeurs nationaux pour représenter les patients du système de santé. Les ambassadeurs passent l'année à raconter leurs histoires de persévérance face à l'adversité et la manière dont les hôpitaux Shriners pour enfants ont fait une différence importante et vitale dans leur vie. The new national patient ambassadors were introduced during the premiere of their documentary called Free to be Me as part of Shriners International's annual convention, known as Imperial Session.
Isabella Rose
Depuis sa naissance, Isabella avait de la difficulté à se nourrir et à dormir. Ses parents, Roselyne et Tim, ont rencontré plusieurs médecins pour comprendre pourquoi, mais personne n'a pu trouver la cause de ce problème. À mesure qu'elle grandissait, ses parents étaient convaincus que quelque chose ne tournait pas rond. La voix de Sabella semblait siffler et elle souffrait constamment d'infections des oreilles et des sinus.
En quête de réponses
For five years, Roselyne and Tim sought answers for their little girl but continued to be unable to obtain even a cause or a diagnosis. Certains professionnels de la santé pensaient qu'Isabella avait une déficience cognitive; d'autres pensaient qu'elle était sourde. Un jour, un ami de la famille, vivant dans la région de Chicago, a entendu parler des problèmes auxquels Isabella était confronté et a suggéré à la famille de faire une demande de traitement dans les hôpitaux Shriners pour enfants de Chicago pour Isabella. La famille ne savait pas à l'époque que son ami Dick Anderson était membre de Medinah Shriners et président du conseil des gouverneurs de l'hôpital Shriners de Chicago. Anderson était heureux d'être utile. Il a déclaré qu'aider Isabella et sa famille à trouver l'aide dont ils avaient besoin était très important, et qu'il souhaitait que tout le personnel des hôpitaux Shriners comprenne l'impact qu'il pouvait avoir sur les patients et les familles dans le système de santé.
Lors de leur premier rendez-vous, une équipe interdisciplinaire de professionnels a évalué Isabella et, en quelques minutes, a pu donner un diagnostic. Isabella souffrait d'une fente palatine sous-muqueuse, une forme de fente palatine qui n'est pas facilement identifiable, car le palais est recouvert d'une fine membrane. « Nous avons été très surpris. Nous avons enfin reçu un diagnostic », a déclaré Roselyne. Une intervention chirurgicale pour réparer la fente a été prévue pour Isabella, puis elle a effectué des séances d'orthophonie pendant deux ans.
Trouver sa propre voix
Isabella, maintenant âgée de 14 ans, vit en Floride avec sa famille. She has gone from struggling to be understood to becoming a gifted vocalist and hopes to perform professionally one day. Isabella fait du bénévolat dans un hôpital vétérinaire local et elle garde des animaux de compagnie et des enfants. Elle aime la peinture, la poésie et les activités de plein air. Il cherche également activement des moyens de redonner aux hôpitaux Shriners pour enfants.
WATCH HER STORY, "FREE TO BE ME: ISABELLA'S STORY"
Donate today and send your Love to the Rescue®. Shriners Hospitals for Children is changing lives every day through innovative pediatric specialty care, world-class research, and outstanding medical education. Our 22 locations in the United States, Canada, and Mexico provide advanced care for children with orthopaedic conditions, burns, spinal cord injuries, and cleft lip and palate.
Les Hôpitaux Shriners pour enfants est un organisme sans but lucratif 501(c)(3) et dépend de la générosité des donateurs. Tous les dons sont déductibles d'impôt dans la mesure permise par la loi.